Security is a big deal for homeowners associations. Most members value the security and privacy that a planned development offers. Meanwhile, community leaders work hard to ensure that sense of safety remains intact.  
Download our free security camera policy
Security cameras can be an effective tool for protecting HOAs. While they cannot stop crimes from happening, cameras can help to lower rates of criminal conduct. They also provide associations with evidence if they ever need to identify someone who had vandalized the property or an asset.
However, security cameras can also be a source of liability for HOAs. Failing to keep a system operational, or infringing on a resident's privacy, could result in legal issues. In addition to reading up on any state laws pertaining to security cameras and privacy, HOAs must also have a clear policy for camera usage. The policy is designed for all members so that expectations are clear even before the cameras are installed.  
HOAs can install cameras in common areas
Unless there are clear instructions (either in governing documents or state laws) forbidding HOAs from using security cameras in shared spaces, an association is authorized to install cameras in common areas. If homeowners are requesting that the association install surveillance cameras in response to an increase in car break-ins or vandalism, the board may want to discuss security options and get the HOA attorney and insurance agent involved.
While cameras are much more affordable than they once were, they're not cheap. In addition to the initial cost of purchasing the equipment, associations will need to budget for installation, storage and maintenance. Some HOAs may even hire a company to monitor footage on their behalf.
Communities will need to prioritize which areas are most vulnerable. When choosing camera locations, HOAs should try to be consistent in their methodology. Access points are usually weak points, and it makes sense to install cameras in places that can monitor who is entering and exiting a space. Strategic positioning may even help to lower insurance premiums.
Don't make the cameras a secret
Board members should look into any laws requiring signs to be posted to inform people that they are being recorded. Even if signs are not legally required, posting them could actually add to the cameras' deterrence since people don't usually look for them. Furthermore, they're easy to forget about if residents are passing by them every day. Signs let people know they are being watched, thus making individuals think twice about doing something inappropriate.
Notice signs can also add an extra safeguard against the perception that the cameras are infringing on a residents' privacy.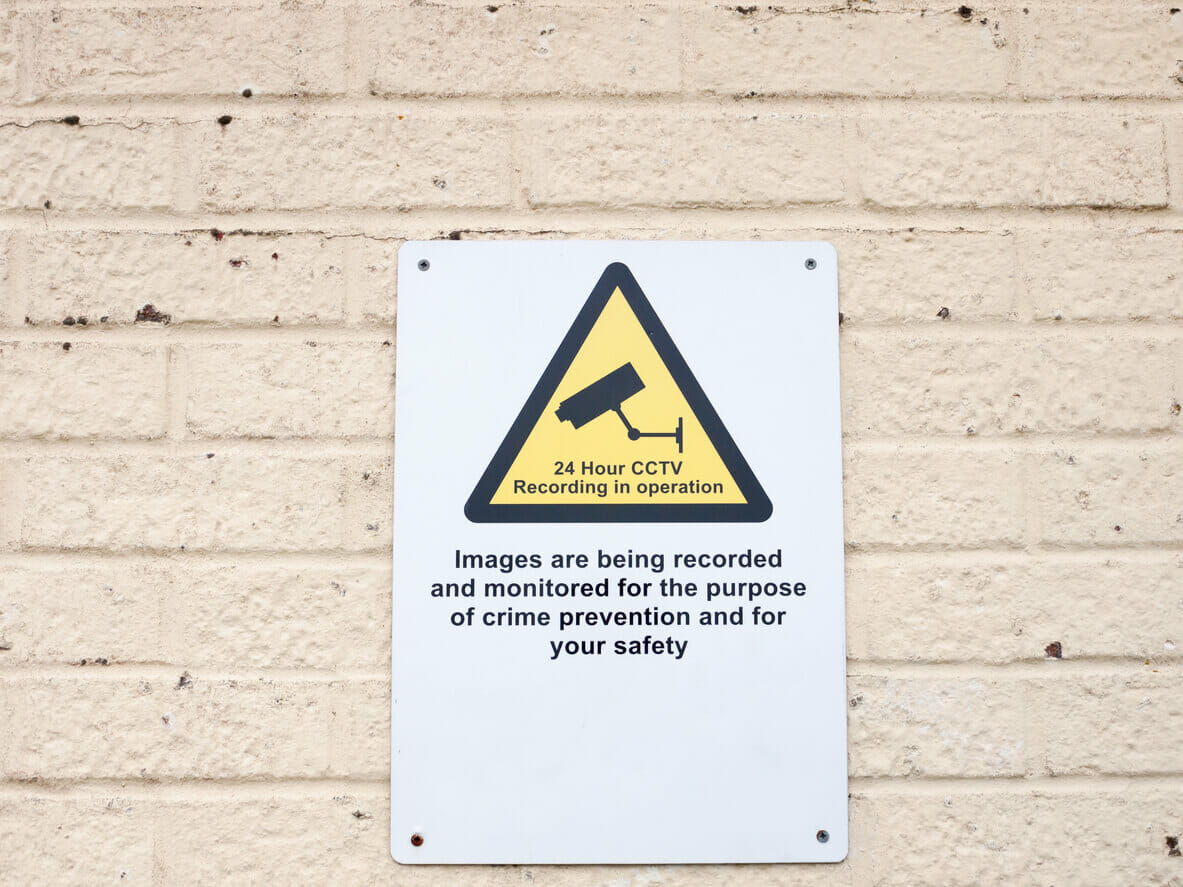 Creating a security camera policy
An HOA's governing documents should have a section devoted to security cameras installed by the association (as well as a section for owner-installed cameras). In addition, a complimentary policy is strongly recommended. A policy clearly outlines why and how security cameras are used for your HOA.
The more detailed the policy is, the better. The document may include items such as where cameras are located, the company that maintains them, the type of cameras being used and costs associated with retrieving a recording. At the very least, the security camera policy should include:
The purpose of the security cameras
The scope of the policy
What happens when footage is created
What happens if footage is needed for evidence
Who can view footage
How long footage is kept
Policies are intended to make camera access and use instructions clear to board members and residents. Associations should have an attorney review the policy to ensure it isn't exposing the HOA to any unnecessary liabilities.
Homeowners need to be made aware of the camera policy
After the policy has been reviewed by an attorney, it needs to be shared with community members. If possible, distribute the security camera policy before the devices are installed. Policies may be delivered in the same manner as any other important documents. Associations may use a combination of traditional mail, email, a residents portal and a physical bulletin board.
If anything changes—for example, additional cameras are installed near a visitor parking area—the policy must be updated and redistributed to residents.  
Best practices for managing security footage
Below are some helpful tips to help your HOA capture and handle security footage in a safe and practical manner:
Footage from security cameras should never be stored or accessed on a personal laptop. This includes computers owned by board members
No one outside of law enforcement should be granted permission to review camera footage in private
Recordings should be kept in accordance with the state's statute of limitations for personal injury claims
In the United States, it's illegal to record conversations if the recorder is not participating in the conversation. Don't try to capture sound
Dummy cameras are cheaper, but don't buy into them. If something does happen and video evidence is needed, the HOA could get into trouble for installing cameras that it knew didn't work
Cameras must never be pointed into owners' backyards, windows, pool change rooms, or other places that would be considered private
Set standards for how long footage will be stored and how it will be deleted after the appropriate amount of time has passed
Make a maintenance plan for equipment
A note about owner-installed cameras
If an owner wants to install a private camera inside of their house, they can place it pretty much anywhere. The camera should not be pointed into a neighbor's yard or window though.
However, an association does have some power to regulate where outdoor cameras can be installed. That's because installing a camera that is within public view counts as an architectural modification, and most HOAs require owners to submit a request for anything that they plan to install. Regulations should be reasonable and aim to balance the resident's safety with other members' right to privacy.
Conclusion
HOA security cameras can help give residents peace of mind and play a significant part in a community's safety strategy. In most cases, boards will not be obliged to install security cameras in common areas, but they may consider investing in the technology if there has been a series of break-ins or vandalisms.
Not everyone will be happy to hear that the association is installing cameras. There may be concerns about privacy and who has access to camera footage. A good policy can help explain why and how cameras will be used. If it makes sense, boards or property managers could consult with residents about camera installation before any work is done. While it's impossible to get a complete consensus on any issue, the association will get a better idea of how many people support security camera usage.