The Philippines has a relatively young and quickly-growing population of skilled, English-speaking workers. But, despite its rapid urbanization, real estate prices remain low compared to many other parts of the world. This combination has attracted international investment, and several multinational corporations have purchased offices in the country.
Like many other places in the world, property prices are on the rise. This has made it difficult for locals to purchase a detached house. While renting is a more affordable option, wages are often low for locals, making it hard to own property.
Conversely, investors and wealthy locals who like to be close to the entertainment and business hubs find that condominiums are well within their budget. For example, an average condo in central Manila will cost around $2,600 per square meter. It's definitely possible to purchase nice accommodations for under $100,000. Of course, prices vary depending on the neighborhood.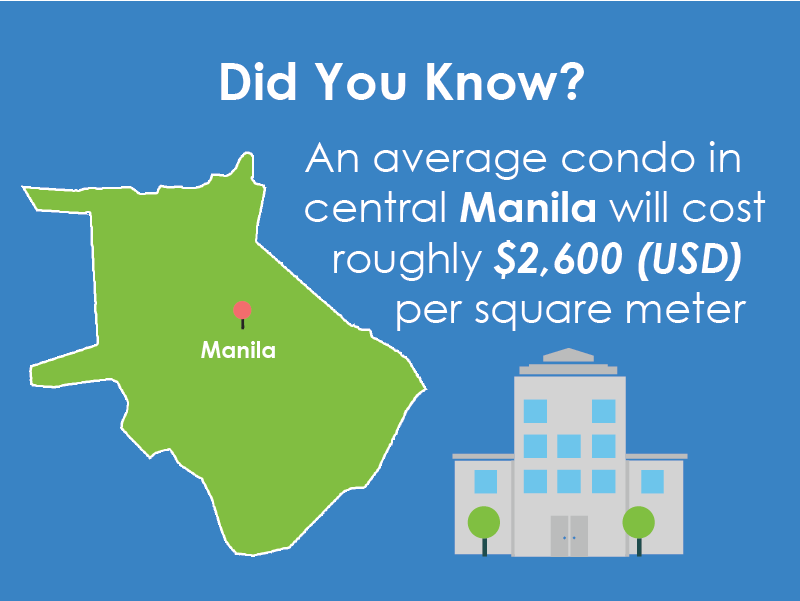 Foreigners are permitted to own property in the Philippines, including condos and houses. However, they cannot own land. Therefore, if an American citizen bought a house in Cebu, they would also need to lease the land that the house sits on. Leases typically last for up to 50 years, and can be extended for another 25 years.
Condo buyers don't need to worry about these restrictions. But they should be aware that there is a 40% limit on foreign-owned units in a building.
Finally, taxation may dampen a buyer's enthusiasm to purchase a home in the Philippines, especially if they don't plan to become a resident. The Philippines requires buyers and sellers to pay a transfer tax of 6% of the property's market value. This fee is normally shared between the parties. Once the purchase has been made, the buyer must cover an annual property tax based on the appraised value of the condo. While property taxes aren't high, the expenses that come with renting out a condo can be costly. If you're a local, rental income is subject to income tax of 32% if the owner makes more than $10,000 per year. If you're a resident, you can deduct expenses, such as maintenance, to reduce your taxes.
Non-residents pay a slightly lower income tax of 25%, but they can't utilize tax breaks.
Despite these rules and costs, those that own condominiums aren't at all unhappy. The charm, vibrancy, and opportunities (and lack of snow) make the Philippines a very attractive place to call home.
As for condo buildings, there is no shortage of beautiful developments to choose from. There are dozens of exceptional listings to review, but these 5 stood out to us.
1. The Magnolia Residences
The charm of a beloved past mingles with a refreshingly modern and urban aesthetic at The Magnolia Residences. This condo project, developed by Robinsons Residences, is located in Quezon City, and was completed in 2017. Units range from 1 bedroom to 4 bedrooms. These units are quite spacious compared to some other developments, and would be suitable for families. The 1 bedroom units average around 400 square feet, and the 4 bedroom spaces are about 1,500 square feet. Units can be purchased or rented.
The complex, which is made of 4 towers, has endless amenities to enjoy. Features include a Zen garden, library, swimming pool, rock garden, tree house and a badminton court.
2. El Pueblo Manila
El Pueblo Manila is located near Santa Mesa, Manila, beside the Polytechnic University of the Philippines. This complex is one of the most affordable places to live. It is not a luxury building, but it is ideal for students or people who only come home to sleep. While there is a 3 bedroom unit listed, these units are best for people who are living alone.
El Pueblo Manila prioritizes cleanliness, affordability and good standards of care. Think of it as a fusion of a condo, a dormitory and a hotel. All units are fully furnished with appliances. Amenities include a basketball court, organic landscaping, and free piano and art lessons for kids.
3. Glam Residences
SM Development Corporation is committed to providing luxurious urban living through vertical villages. Glam Residences does not disappoint. Located right off Quezon City's prosperous business district, Triangle Park, Glam Residences is connected to all of the commercial activities in Northern Metro Manila.
 This development is ideal for millennials or people who want access to a truly cosmopolitan lifestyle. The units are geared to singles and couples. A 1 bedroom unit is a bit less than 300 square feet. Amenities include a swimming pool, gym, a function room, and a rooftop sunset bar.
4. Two Central
If you're an expatriate, Two Central is the building for you. Located in Makati, the Two Central is very close to the central business district. Units are relatively spacious for the price. A 1 bedroom is around 645 square feet, and larger 2 and 3 bedroom units are also available. It is possible to rent units. Two Central is comprised of 2 towers, and 408 units.
Units come fully furnished, allowing ex-pats to get comfortable quickly. Residents will enjoy air-conditioning, a 32-inch LCD TV, a sofa, a dining set, and a washing machine. Added room features include wood flooring, marble countertops, and a built-in closet.
 It's just a short walk to several amenities, and it is also a short walk from Gil Puyat Avenue, the "other side" of the Makati business district. Amenities include a lap pool with a paved sunbathing lounge, meeting rooms, a gym, a reflexology path, and maintenance and housekeeping services are available.
5. Avida CityFlex Towers
Located in Bonifacio Global City, Taguig, Avida CityFlex Towers is thoughtfully planned out so that residents can enjoy peace and quiet while still being close to main attractions. Residents are within minutes from the things that matter most, like office buildings, commercial establishments, and some of the most prestigious schools in the country.
The aesthetics are simple and attractive. CityFlex has 573 units, and the spaces are not tiny. A single bedroom is about 420 square feet, and there are lofts and units equipped with small home office spaces. The building is geared towards couples and singles. Some of the CityFlex amenities include a swimming pool, clubhouse with a function hall, and SoHo lobby.
Condo management software; a perfect management solution for any community
No matter what your condo community is like, condo management software can help residents, management and the board with communications, operations and security. Condo Control, for example, provides condominiums with user-friendly software that effectively tackles things like meetings and record-keeping for boards, incident tracking and package deliveries for security and concierge, online payments and violation tracking for property managers, and service requests and amenity bookings for residents.
The platform can be accessed from a computer, smartphone, or any device that connects to the internet.
Condo Control has over 40 features available, and each one is carefully built with the purpose of saving you hours of work, eliminating messy paperwork, or minimizing repetitive tasks. It's ideal for communities that want to stay connected and be more productive. Best of all, it's affordable. Condo Control will work with you to ensure you're only paying for what you need.
Conclusion
The Philippines has built dozens of beautiful condo communities that make residents feel right at home. Different buildings cater to different needs and desires, but with a little research and some luck, it's not too hard to find the perfect condo for you.